Glen-Cia-Aig, Garbh Bheinn, Laggan Locks. The names all drip with Highland dew. Thoughts of the Highland mist and the sweet smell of heather flashes through the mind. These are not the names of Scottish Villages or passes, but sections which all form a part of the Scottish Six Days Trial. Girlfriends go without cinema visits and meals, wives go without a new washing machine, houses go without a coat of paint all so one man can compete in the SSDT.
The 'Scottish' is the toughest event in the trials calendar. It has the same status to trials riders as the TT has to road racers. Many a world champion has been humbled by the SSDT. A winner of the 'Scottish' carves out a piece of history for himself, but world champions are quickly forgotten. It takes a special kind of man to win the SSDT and I am just grateful I had the chance to compete with the world's best.
Trials riding is like a motorised ballet on wheels, each rider has to cross terrain which would break a Sherpa's heart. Up waterfall, across bottomless bogs, over rivers, up mountain passes all without penalty. A penalty means placing a foot down to steady ones balance. The idea is to have an unpenalised rise through marked sections. A foot down once, one mark against the rider, a foot down twice and two marks against, as many feet down continually loses three and a stop where the bike cease forward motion loses five, the maximum. An unpenalised ride is an enviable clean and the winner is the one who loses the least marks over the six days. Marks can also be lost if the rider is late within an hour of his allotted. time, after the hour he is disqualified.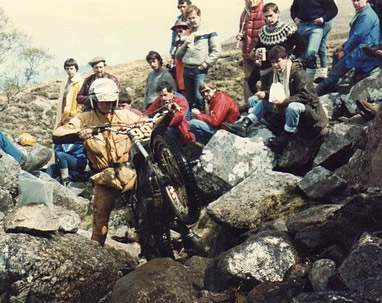 Monday, May 7th, total mileage eighty four miles. I had been saving every penny since September, selfishly spending all my money preparing the bike, but now with one minute before being started number ninety nine was having a slight bottle problem. I was thinking what I could have done with the seventy pounds entry fee. My girlfriend Kay was waving and her brother Carl who has come up to mechanic and be chief photographer was there. I couldn't let them down, should I.... Down dropped the starters arm and I was off towards the first fuel stop at Spean Bridge twenty five miles on the road. Carl followed on the Kawasaki as back up, in case anything went wrong (touch wood).
As soon as I left the road onto the open moorland I was on my own, occasionally coming up and passing a rider, or the reverse. It was strange that for the first time in my life I was aware of the vulnerability of man. I looked around me and saw all the snow capped mountains, and rivers, no buildings, no sign of man ever being there. I could not believe my eyes when I came upon a couple of snow drifts, "Snow in May?" I asked myself.
The engine changed its note just like a finely tuned instrument as I changed up and down the gearbox, rather like musical scales. I arrived at a section (Bradileig, God it was big!) I saw rider after rider come to an undignified halt on the large rock step at the end of the section. I quickly walked the section to see which path I would take then ran back to the bike. I cleared my mind for the task ahead. I was waved into the section. Steady John steady, first gear then second for the step and don't forget to pre—jump. Off I wobbled through the first sub, I couldn't believe it, I was clean to the step; up into second and into the rock I crashed. I jumped off the bike and fell to the foot of the step and landed badly on my ankle. I thought it was broken, I couldn't stand. I was helped to my feet by a couple of spectators, luckily it was only sprained. The first section of the week and I'm out. Forget it John you are not going to be beaten, not without a fight. It saved me quite a few marks that week as I could not put my right foot down to dab. The only other heart stopping moment on Monday was running out of petrol. The Montesa refuelling service was not there. "There'll be hell to pay Sandiford". Luckily I pushed it (on one leg) to the army refuelling wagon a few yards up the road and they kindly filled me up. "Thanks Lads!'
Sandiford's was another fifteen miles over the glens.
Kentallen was between us, the final group of sections lay ahead. I fived all six of them, but I was just relieved to get back to the start in Fort William. I raced there flat on the tank, the little "Mont" crying out in disapproval. I was six minutes late, but still within my hour's limit. One down five to go!
Tuesday, 8th May, total mileage ninety eight and a half miles. My starting time was seven thirty. I didn't want to get up as I knew what lay ahead, ninety eight miles of gruelling moorland containing thirty mind blowing sections. These included Achlain, six picturesque stream sections strewn with rock steps and Allt a Chaoruinn which was my favourite group of the week. It had just two sections where I amazed myself and cleaned both. A tremendous round of applause followed from the cold, ground stamping spectators.
Clunes Forest was a most unforgettable experience; it was like being in a different world. Thick pine forest so dense that the light which forced its way through was green; everywhere green light was shining through, rather like Blackpool's lasers. I could imagine leprechauns and other fairy tale creatures singing and dancing, in the eerie light.
Back into the real world Witches' Burn was my next task. A fifteen foot rock step that could have easily defeated Sir Edmund Hillary. The less said about this the better, it certainly defeated me. I came crashing to the floor like an express train smashing into a nuclear waste container. The bike also suffered with a damaged clutch and shock absorber with still five days to go.
Wednesday, May 9th, total mileage eighty two and a half miles.
I thought it would be a steady day, I must have been mad. I ran out of petrol twice and pushed the bike a mile or so along a small undulating track on a moor called Blackwater. A friend who I ride with in Leeds caught up and gave me some fuel until I reached the petrol check. By this time I was down on time, what was a fairly steady day turned into a mad dash over sixty five miles of moorland sections and road work. I felt totally drained and was then faced with Caillaich, two thousand one hundred feet of sheer hell. A track winds up this mountain made up of marbles; small white stones that roll under the stickiest of Michelins. I hiked with the bike, pushing and shoving all the way to the summit, all for one section. The most horrendous descent followed, and I came down like a skier on a slalom course, dodging rocks, bogs and streams, then back along Mamore track to the start. Ah well three days to go.
Thursday, May the 10th. Total mileage one hundred and six this day, not forgetting the half.
The best thing on Thursday was the lunch break. Carl supplied the sandwiches and high protein orange juice and off I went round the Moidart Peninsular. Thursday was named 'road race day' because the day's course consisted mainly of road work. The sections were straightforward, no cause for worry. I used all four spare sparking plugs and each time one blew I aged about ten years (that makes me sixty one). The highlight for some that day was a trip on the Corran ferry which ferried the bikes and riders back to Fort William. I do not travel well on water especially when the going gets rough, but I told myself that I had survived four days of the toughest going in the world and I would not be beaten by Neptune. I felt much better as soon as I got both tyres on to firm tarmac, two days to go and counting.
Friday May the 11th, total mileage ninety one miles.
I could hardly pull myself out of bed my muscles ached so much, I wanted to just curl up and die. It was not just the hard going that was getting me down, but putting it all together, mentally working out and planning lines through the terrain over the six days. I had done four and hopefully five. Well we will just have to wait and see.
Sausage, egg, bacon and toast, plus double the amount of coffee anyone else would have. Kay had got up to prepare a good breakfast for the last four days and God I was thankful.
I was running late and the Scottish was nothing compared with what was to come. My starting time was eight, it was now seven thirty. We had hired a shepherd's cottage at Ballachulish, about seventeen miles from Fort William. I had made the journey every day with time to spare, but this time was different. Carl, who was the better driver (better you're kidding Ari Vatanen rally champion eat your heart out, move over here comes Carl Milner future champion). Carl bundled me into the car and drove off at breakneck speeds. Cars seemed to go into reverse as we approached, gobbling everything in our path like a huge monster. With headlights on and horn sounding, round blind bends and humps the madman raced. I closed my eyes. In what seemed like a life time of being thrown around a Fiesta I was there in Fort William alive. After that shuttle trip Friday held no fears for me. One day to go and thank the Lord for seat belts.
Saturday, May the 12th, total mileage seventy two and one half miles.
Only half a day's riding, but it was the worst. It was not the sections or the terrain, but the actual finishing. I had travelled three hundred and seventy five miles to Fort William and so far completed three hundred and sixty and a half miles of the Scottish Six Days Trial and I was terrified of not completing the last seventy two or so. Punctures and engine failures lodged in my mind, and then I remembered they had saved. Ben Nevis till the last.
There were eight sections in the foothills of this famous mountain and they were the hardest of the week. The sections were packed solid with spectators. I fived the entire group, but that did not matter, I was just grateful to get off the mountain. Back to the finish I raced I could not believe it was all over and that I, John Bolton, finally, after six hard and gruelling days, had beaten the Scottish Six Days Trial.
The biggest ordeal of all was collecting my medal at the prize presentation that evening.
The hall was bursting at the seams with people trying to see the stage. It was very hot and claustrophobic. I was even hotter, sweating at the palms, knowing I would have to climb onto the stage and collect my prize. Name after name was called out; Potts, Smith, Bolton. Bolton that was my name. I pushed my way to the front, collected my medal, shook the hand of the presenter and then melted into the audience with a grin as broad as Scotland's largest loch.
JB